Tachyon Protocol Announces BG Staging on Bithumb Global, IPX Token Listing Coming Soon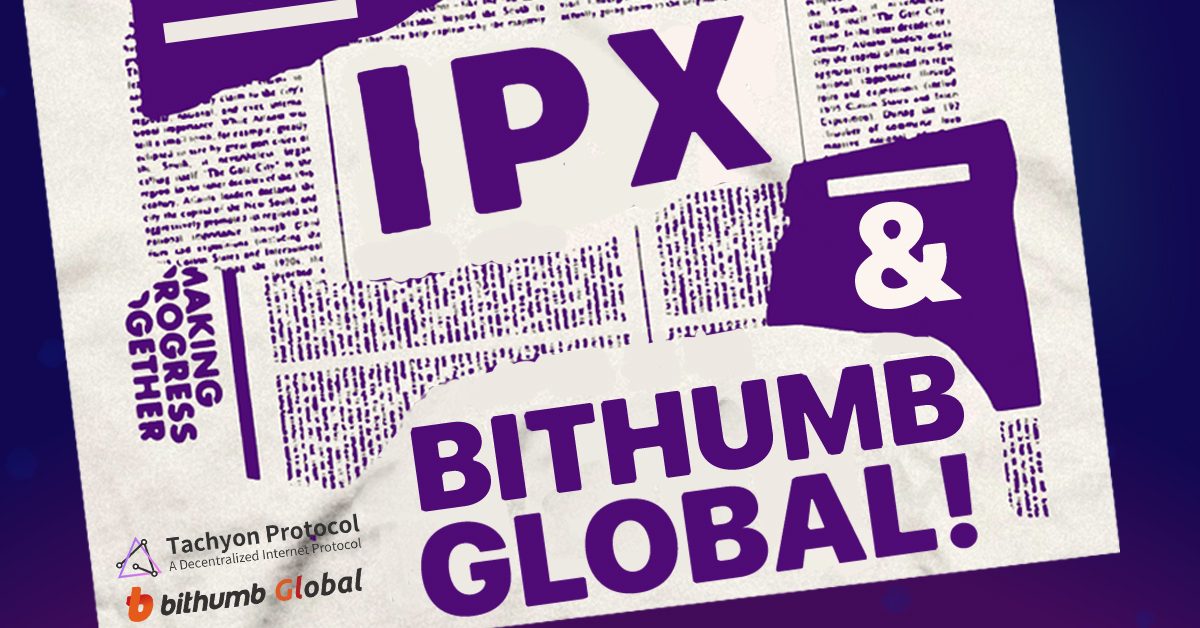 8th November, 2019 – Tachyon Protocol, a decentralized internet protocol co-launched by V SYSTEMS and X-VPN, officially announces its BG Staging event on Bithumb Global. IPX Token BG Staging starts from 7th to 14th Nov.
Bithumb Global is the global platform of Bithumb which is one of the top 3 digital asset trading platforms in Korea. "Since Bithumb Global's beta launch in May of 2019, it has on-boarded more than one million users worldwide, with a daily trading volume exceeded $381 million."
BG Staging is the most unique feature of Bithumb Global which help selected projects to reach the Bithumb Global community and drive extensive attention. It's a warm-up for the upcoming official listing of IPX on Bithumb Global.
A total supply of 1,000,000,000 (one billion) IPX token will reside on the V SYSTEMS blockchain network. IPX Token is a key part of the Tachyon Economic System and will function as identity verification, market trading, incentive and coordination mechanism.
The BG Staging event provides a great starting point to build up the exposure of IPX token. It also opens up possibilities for more participation in the development of the project as well as the community. Tachyon will further improve its liquidity through listing on more top exchanges worldwide.
About Tachyon Protocol
Tachyon Protocol is a decentralized internet protocol built on the V SYSTEMS blockchain that aims to create a trusted, stable, fast, reliable and transparent decentralized information network. By implementing techniques from DHT, blockchain, UDP and encryption, Tachyon Protocol is committed to building the next generation TCP/IP that can provide a self-sufficient internet environment with high security, untraceability, availability, and maximum network speed.
About Bithumb Global
Bithumb Global is a decentralized digital asset trading platform providing world-class cryptocurrency trading services to users worldwide. Derived from Bithumb, one of the most popular cryptocurrency trading platforms in South Korea, BG enables each global user to trade, participate or contribute in the digital assets ecosystem.
Media Contact
Company Name: Block Stone Ltd.
Contact Person: Media Relations
Email: Send Email
Country: HongKong
Website: https://tachyon.eco/