NetForChoice has announced Independence Day 2020 sale offering unbeatable deals
This announcement has been made to inform people that NetForChoice has brought the much-awaited 'Independence Day Sale' till 18th August 2020. Customers can avail unbeatable OFF on the widest range of cloud hosting solutions.
New Delhi – 14 Aug, 2020 – NetForChoice, a prestigious Tier-4 data center & cloud hosting company in India, is set to celebrate the country's spirit of freedom with the – NetForChoice Independence Day Sale (www.netforchoice.com). The astonishing sale starts at 12 AM on August 12 to 11:59 PM on August 18, 2020.
This year's special discount offers unveiled, starting today till 18th August 2020. Great Off upto 20-30% will be available across categories including Tally On Cloud, Busy On Cloud, Marg On Cloud, Zimbra On Cloud, SAP Hosting, Dedicated Servers (Windows / Linux), Virtual Private Server (Windows / Linux), Mailing Hosting Solutions, Security Solutions, and the best deal on the widest range of others solutions, so this might be the amazing time for your cloud computing upgrade.
As we all know, due to the COVID-19 pandemic, the remote working becomes a new working model for the companies. This further creates a problem in many businesses to work together with their employees. So the implementation of cloud computing becomes a must in the organization to maintain their workflow in this unprecedented time. No doubt, this Freedom Sale works as a game-changer as most of the cloud solutions are available on great Off.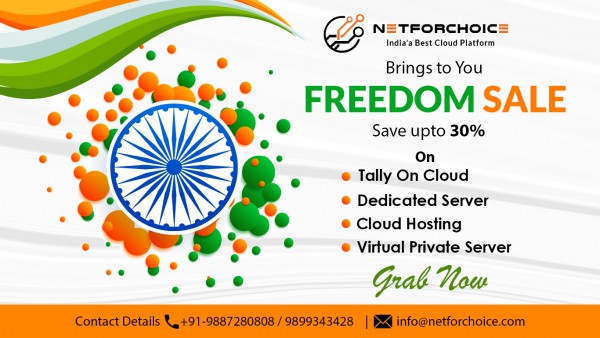 Sameer Yadav, CTO, NetForChoice said, "2020 Freedom sale is back at NetForChoice with impeccable offers and deals on our comprehensive range of solutions. Customers can get unbeatable deals in this Independence Day sale without any hassle. The offerings are available for Cloud Hosting, Mailing Solutions, and Security Solutions. The freedom sale 2020 will conclude at 11:59 AM on August 18. In the end, I want to say that explore the dazzling offers & leverage the power of cloud computing in your business. It is the right time!"
What's More – If you are looking for an affordable cloud accounting solution, you can check out the wide range of NetForChoice Hosted ERP applications – Tally / Marg / Busy offered with pleasant discounts running up to 30%.
In case if you have been waiting for getting the best cloud solutions at more economical prices, then no look further and head out to NetForChoice Freedom Sale till 18the August 2020.
The sale runs for a week and one can easily get most of it by contacting the NetForChoice team. Customers can purchase premium, high-end, powerful Dedicated Hosting & Virtual Private Servers along with Managed IT Services. The deals with certainly benefits your business forever.
Time & Tide wait for no man, so grasp the fabulous NetForChoice Independence Day Sale right now and ramp up your business.
About the Author
NetForChoice Solutions Private Limited powers India's largest cloud platform company. We provide enterprise-grade cloud infrastructure products to the businesses of all verticals. Solves the need of enterprises by providing the impeccable solutions – Colocation, Mailing Solutions, Data Security, SaaS, Accounting Solutions, IaaS, Managed Services, and Disaster Recovery Solutions. The team at NetForChoice make sure that all services meet industry standards and taking care of the servers 24*7.
To learn more about the company visit www.netforchoice.com
Media Contact
Company Name: NetForChoice Solutions
Contact Person: Sameer Yadav
Email: Send Email
Phone: +1 9887280808
Country: India
Website: https://www.netforchoice.com/