Meet Ultrakarl, Exclusive Interview with the FX Artist Behind the Costumes of The Hit New Action-Thriller Chrome The Series on Prime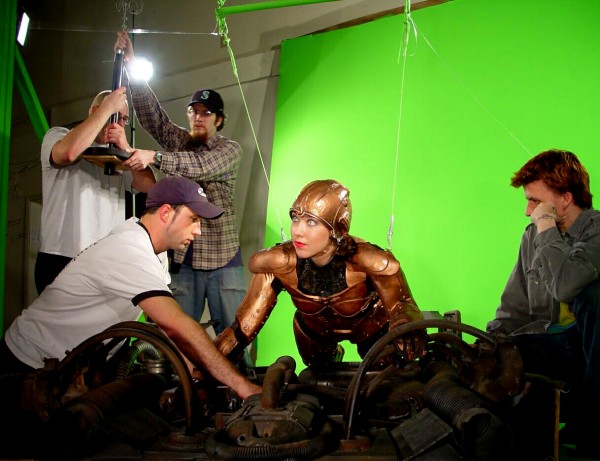 A photo of Ultrakarl overseeing a flying rig shot on producer Susan Goforth's and Director Timothy Hines' smash hit new Amazon Prime TV series, 'Chrome: the Series.'
Exclusive interview with FX artist Ultrakarl on his robotic creations in "Chrome: The Series," the successful new mini-series streaming on Amazon Prime with millions of delighted viewers.
Official Trailer for "Chrome: The Series" a best new series on Amazon Prime: https://www.youtube.com/embed/TEeFKldV9OU
The FX artist known as Ultrakarl is no stranger to on-set FX having worked on dozens of movie projects including the highly praised "War of the Worlds the True Story," the version of H.G. Wells' novel most fans agree is the best. He is a one of a kind meticulous visionary. In this exclusive interview her reveals how the mix of state of the art FX were blended with a retro feel to create one of the most original productions to come along since Spider-man: Into the Spider-verse.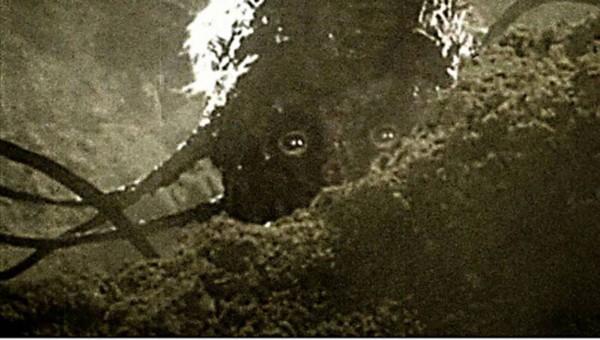 Above: FX artist Ultrakarl created the famous martian for Timothy Hines' "War of the Worlds the True Story", the critically acclaimed and fan acknowledged best version of H. G. Wells' classic novel, as well as the robotic costumes for the hit show "Chrome The Series" on Amazon Prime.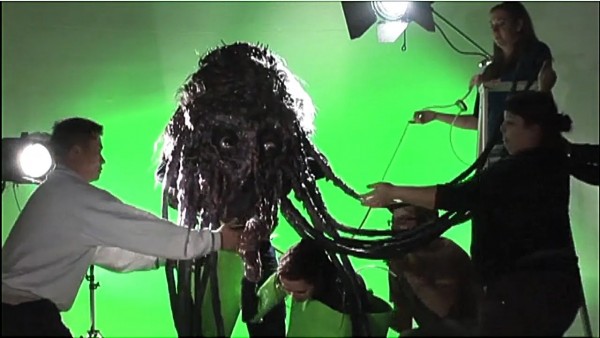 Above: Ultrakarl puppeteering his martian creation for Timothy Hines' War of the World the True Story. The Creature, lovingly named Basil after the main character in John Cleese' "Fawlty Towers", took 18 people to operate including two humans inside, one of which was Ultrakarl.
The epic superhero adventure that took 19 years to mount, styled like a Saturday morning cliffhanger meets graphic novel on the screen, stars Katie Erin Tomlinson as a slave robot "Chrome" who breaks her human injury inhibitor to rise up against her cruel masters with the help of a member of the robot movement, Perdix the Repairbot, played by Natasha Coppola-Shalom, niece of Nicolas Cage, to fight for freedom from oppression and bring light to a humanity which has lost its way.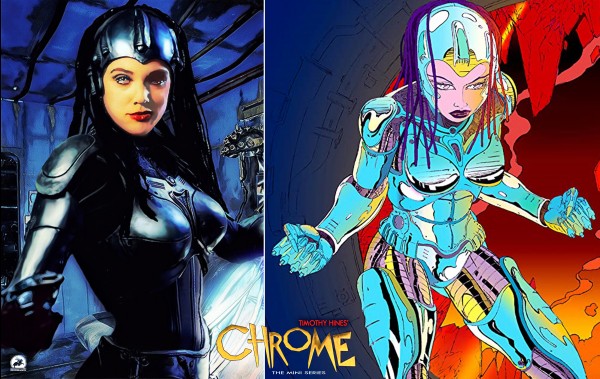 Above: spectacular success for Chrome: the Series streaming on Amazon Prime with robotic costumes created by FX artist Ultrakarl.
FX artist Ultrakarl gives his take on fan questions from social media:
How did you become interested in Sci-fantasy?
UK: From very early on I remember enjoying the genre. In England as a young boy I watched a lot of Dr. Who, I loved it, the Gerry Anderson show Thunderbirds and old black and white serial cliffhanger shows like King of the Rocketmen. But everything changed for me when I watched a brief clip on the evening news about work being done on a massive puppet project, it was The Dark Crystal. They showed people making the puppets and building the big costumes, that's when I had the epiphany that people made these things with their hands. At that moment I was overcome with the idea that this was the real magic, more magical than anything in the stories and I wanted to be one of these people.
Above: Susan Goforth as EL the Reclaimer a robot hunter who is transformed into a cyborg in episode 2 of Chrome: The Series with the magic of Ultrakarl's FX makeup.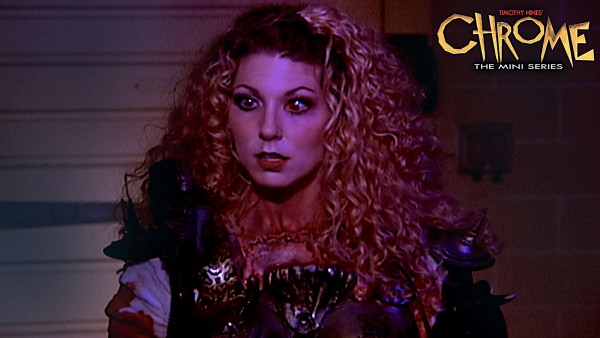 How did you come on board Pendragon Pictures?
UK: I was living in Seattle at the time, I found a contest on one of my nerd news websites for a chance to be an extra in Pendragon Pictures' updated War of the Worlds project. Then the events of 9-11 happened and their website was shut down, the movie cancelled. I decided to send my entries anyway along with a letter and never gave it another thought. A few months later I received a phone call from Tim (Chrome director) and he asked to meet to talk about his next project. I was not expecting anything to ever happen so I was nervous. The only thing I had brought with me to show was an unpainted old age make up prosthetic face I made but once he saw it and realized I understood how to make molds he hired me on the spot. He said "If you can do this, you can do what I need you to do", he had more faith in me than I did.
What were some of the things you did/create on Chrome?
UK: I started out making robots for the penalty tower, then designing the armor for the Iron Guards. I worked with Ezra a bit on the jet packs and weapons. I wasn't there for the miniatures filming but I built countless props, EL's injection gun being one of my favorites. I painted pretty much everything to make sure it all looked like it belonged in the same world. Made a few sets and was able to do a lot of the finishing touches on the rest. I did all the blood gags and squibs (that was so much fun), as well as the prosthetic makeup. This included Zet's neck injury and speech assist module, Susan's different injury stages and severed head. But my main job and greatest challenge was making all those robot suits. I had never done anything on such a scale before, the whole thing was an amazing adventure.
Above: Katie Tomlinson in Timothy Hines' "Chrome: The Series" on Amazon Prime Video.
How did you make the robotic costumes?
UK: I began by making head to toe castings of each of our performers, which I did in pieces. After casting everyone, my lab looked like a petrified forest of people parts. Then it was weeks of meticulously detailed clay sculpting of the individual pieces of armor and the gear/circuitry at the joints and between the major parts. 2-piece molds then had to be made of everything, the clay removed and cleaned out to be replace by a multi-part mixed liquid rubber that cured into a very durable material. Painting was next and the best part of this for me, it's when the pieces really came together and started to look alive, showing us what this world is going to look and feel like. Seeing all that hard work pay off, it was very motivating for us. Finally it was just a matter of the fasteners, lots of velcro and rivets to attach the parts together to fit over the under-suits on the actors. Spoiler Alert: Susan's costume, El's final form, was my favorite one. For the first time I felt truly creatively unrestrained, my chance to make the kind of thing I've always wanted to see. It was an exciting process, more on that another time.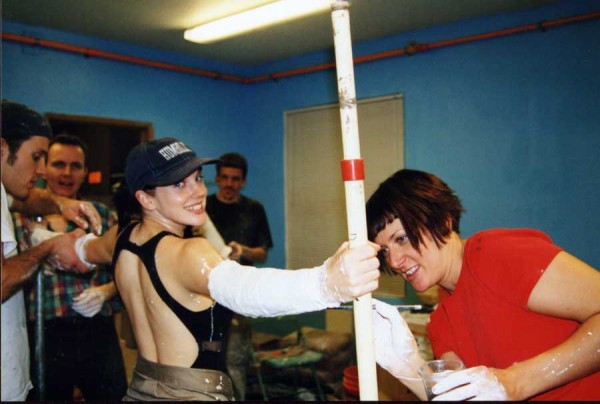 Above and below: Ultrakarl supervises and does hands-on in the full body casting of the cast for "Chrome: The Series" from which sculpted molds were struck to create the robotic armored suits.

What were your artistic inspirations for Chrome's designs?
UK: I relied upon a lifetime of science fiction and comic books. I really wanted her to look as dynamic as possible, in any pose, to look good as a live action or comic book character. Balanced between feminine and powerful, disarmingly petite and beautiful but look like she could take on the Terminator. I wanted her to be a powerhouse barely contained in a small frame, to look like she's ready to burst. I felt it was important for a slight nod to the original humanoid robot, that beautifully designed Maria from Metropolis, knowing I wasn't the first to do so (I'm looking at you threepio). She also had to look very sleek, clean lines and high contrast, a high performance machine in a rundown, rusty, grimy environment. I wanted her to look like the light in a dark place, hopeful.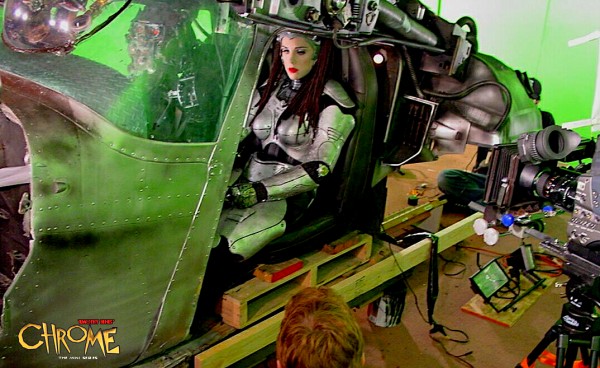 Photo: On set for 20 weeks during the filming of breakout successful, "Chrome: the Series," streaming before millions of audience members on Amazon Prime.
What was it like shooting Chrome for 20 weeks.
UK: As exhausting as it was exciting. The first day of shooting was such a great day, we had done all this work, made all these toys and now we got to play with them. It was my first ever blood gag and it had a pyro element, I knew my dream had come true, I was really doing it and was so excited. It's the scene where NAL, (performed by actual hero robot and actor Dave Morrissey Jr.), shoots through a flying vehicle and strikes the pilot. I had little explosives in the cockpit and the side of his helmet with a blood tube concealed in his hair. The actor did a beautiful job. Right after the pyro went off he reaches toward his face just as the blood trickled down and he slumped forward, perfect, got it in one take. The end of that day was a tremendous performance with the levetrain conductor before he crashed, frantically trying to regain control and we shook that set piece to its destruction, awesome!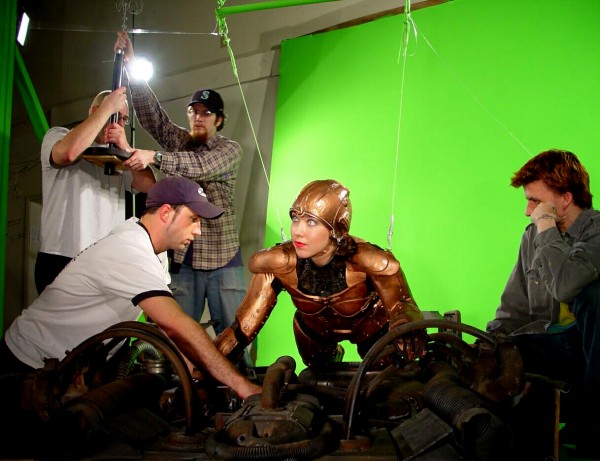 Above: Ultrakarl (right) oversees a flying stunt performed by Jamie Lynn Sease on the 20 week film shoot of "Chrome: The Series, now streaming to delighted audiences on Amazon Prime.
How did you come by the name Ultrakarl?
UK: I got my name, Ultrakarl, while on this project, I've been operating under that name ever since. It was early on, I was seeing the sheer amount of work ahead and having doubts about my ability to do all that, it was my first movie and I've never been tested like this. I was reaching for a bag of the stone powder mold making material called Ultracal-30 but one of our assistants was in the way so I said "excuse me I need to get to the ultracal". She gives me a funny look and asked "did you just say ultra-karl?". That was a lightbulb moment, I thought only a super hero could achieve this impossible task, a mountain of work, and now I had my path through it. I felt like Bruce Wayne becoming Batman for the first time, I was ready.
Above: Beneath Chrome's human face, a practical on-set full scale hero animatronic robot created by FX artist Ezra Hamill who worked closely with Ultrakarl under Timothy Hines' direction.
You worked closely with FX artist Ezra Hamill. How was that?
UK: Ezra and I had worked on a lot of stuff together during pre-production, this one time during shooting he played one of the flying Iron Guards. We attached him to flying rig and the shot called for him to spin out of control before crashing, which we did. The poor guy was so dizzy after that he was completely out of commission for the rest of the evening, I shouldn't laugh at that but it was funny.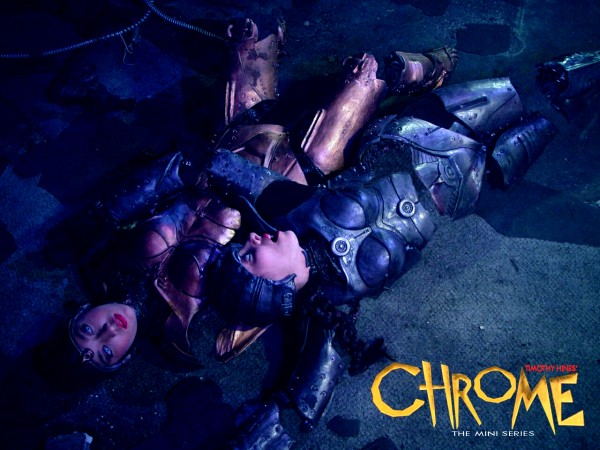 Above: Jamie Lynn Sease and Darlene Sellers have been 'reclaimed' by EL the RECLAIMER in "Chrome: the Series" the hit new series on Amazon Prime.
What was it like artistically working with Tim Hines?
UK: Very collaborative, which surprised me, this being my first project I wasn't sure what to expect. It seemed like after I made progress on the Iron Guard armor that I was trusted with more creative freedom. My favorite part was that Tim would always listen to any ideas I had and actually thought about it, always heard my reasons why I think something should look this way instead of that way. There was a lot of clear idea and concept communication between us I think because we spoke a common language of scifi and geek culture and didn't need to explain every little thing. I could always understand where he was coming from. We had a lot of fun during production coming up with ideas and solutions in the moment.
Besides Chrome, what are your favorite fantasy films/series?
UK: Dr. Who is on the top of the list and closest to my heart, I loved it as a kid and still do. It was my first glimpse of fantastic possibilities, I would love to work for them one day. I have a vast knowledge of all things Star Wars and Star Trek. The 80s brought the TV miniseries V, and then V the Final Battle, lizard people disguised as humans was a huge influence that made me certain I had to do this kind of job. Dark Crystal, Labyrinth, Neverending Story, Tron, Robocop…it's a very long list.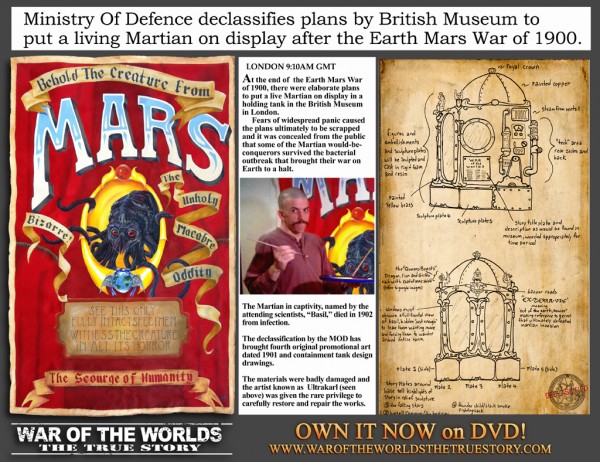 Above: A publicity gag featuring Ultrakarl for Timothy Hines' "War of the Worlds the True Story" the fan approved retelling of the Wells' classic available on Amazon Prime.
FX from Timothy Hines' War of the Worlds the True Story – Video Link: https://www.youtube.com/embed/zUCj3fp6zRE
Anything else you would like to share about yourself?
UK: I came to the states in the early 80s, became a self taught artist that moved around a lot. Currently in Colorado with my wonderful cat and working on a series of children's picture books. During production my personal life went through many difficult changes, I'm glad Chrome was there to help me through it.
Watch Chrome The Series on Amazon Prime: https://www.amazon.com/Chrome-The-Series/dp/B0882ND6Q1
On Amazon Prime UK: https://www.amazon.co.uk/Chrome-Pilot-Death-Wish/dp/B08836B4MQ
Media Contact
Company Name: Pendragon Pictures
Contact Person: Susan Goforth
Email: Send Email
Phone: 1+ 310-480-0837
City: Los Angeles
State: CA
Country: United States
Website: www.pendragonpictures.com