ResinFiber is utilizing Mr. Checkout's Fast Track Program to reach Independent Hardware Stores Nationwide.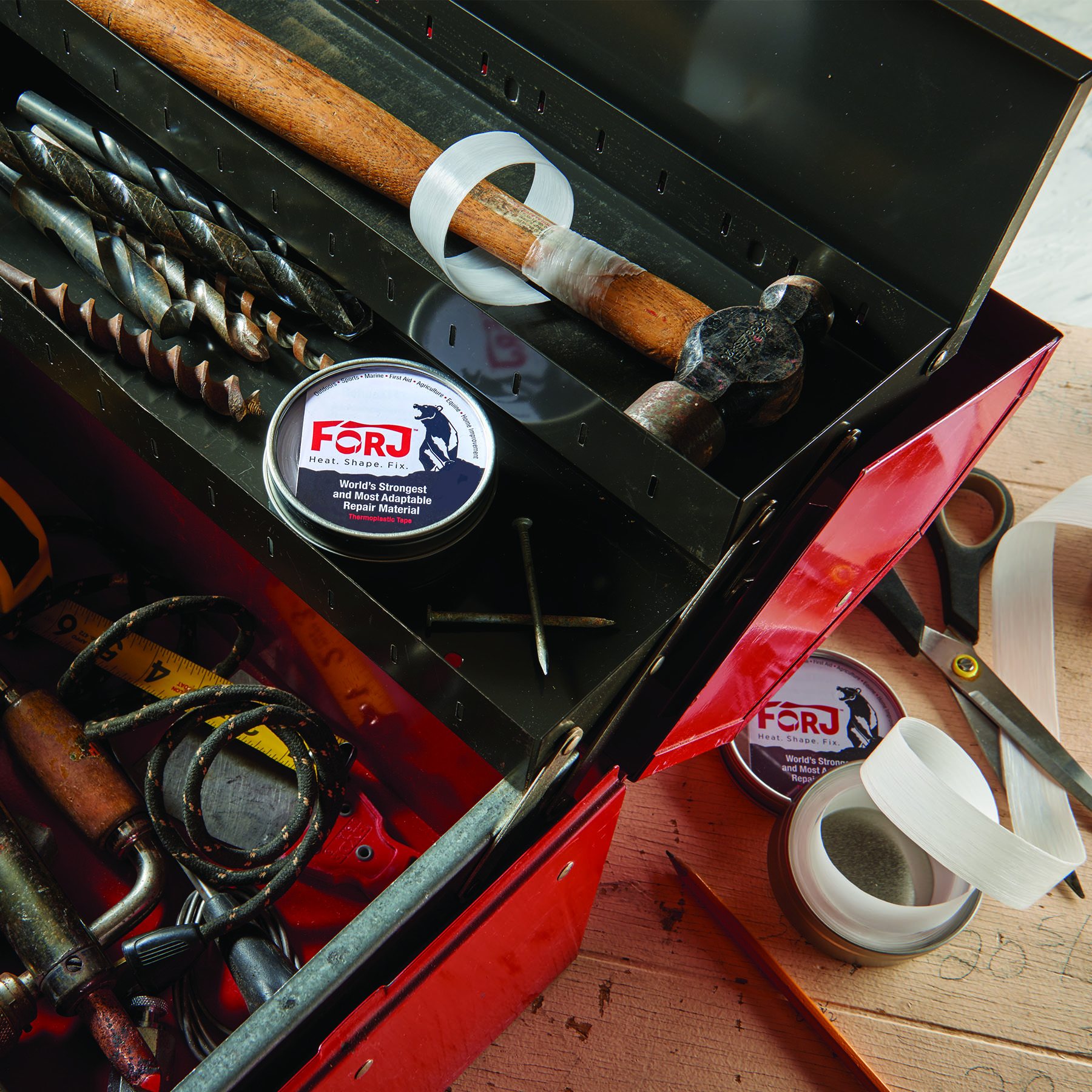 Forj Thermoplastic Tape – Ribbon, With countless applications, Whether your fixing something around the house, rigging a tent, or towing a boat Forj's adaptable qualities make it an industry diverse product that customers wont be able to resist.
Forj is the strongest most adaptable material. This high strength, lightweight, thermoplasic tape – ribbon molecularly fuses to itself in a matter of seconds, creating a bond as strong as steel. Forj is quickly becoming a staple of tool boxes, glove compartments, and hiking backpacks across the world – with new uses being developed everyday.
At Yale Cordage, we make ropes, tools, and Forj tape based on our core philosophy: Quality is Everything.
Throughout our company's rich history, we've consistently built dependable and innovative products in Maine. Yale has always embraced new fiber technologies and pushed the envelope of what's possible with new materials. Forj represents the latest step in creating new products that provide new value and applications to our customers.
Forj was brought to life on Kickstarter in 2017 under the name "Braeön" with over 1,800 backers, many of whom wanted to try to buy the world's strongest material (none of them could!)
In 2018 Forj was named the Maine International Trade Center's Best In Show from their New Product Global Showcase. Forj then won a 2018 Outdoor Retailer Innovation Award, highlighting the groundbreaking potential applications for Forj across outdoor activities.
Nowhere can you find a tape or ribbon product that has the strength, versatility, or ease of use that Forj possesses. It probably has the best strength to weight ratio of any material known to man. It is totally recyclable, waterproof, reusable, with infinite shelf life when stored properly. It contains no chemicals that would create any personal or environmental risk. Even though thousands of novel uses have been identified, tens of thousands are yet to come based on unlimited creativity of its users.
When all of its unique properties are combined with unlimited imagination and markets, ease of manufacturing, unlimited physical forms, it has created a new and novel market for a revolutionary tape – ribbon.
The innovation required for a product like Forj combined aerospace composite materials, medical and rehabilitation expertise, specialized production machinery manufactures, industry leaders in production and marketing of products that depend on strength, flexibility, and ease of use.
This material has found its way to the outdoor/recreation, medical, wood working, dental, plumbing, tree nurseries, landscape, boating, automotive, electrical and hundreds of other markets and industries.
Media Contact
Company Name: ResinFiber
Contact Person: Bruce Goodrich
Email: Send Email
Phone: 207.494.1022
Country: United States
Website: https://nihaa.org/featured-item/resinfiber/