Technology Stock: IINX Ionix Technology Five Subsidiaries Serving the Multi-Billion Dollar Photoelectric Display and Smart Energy Industries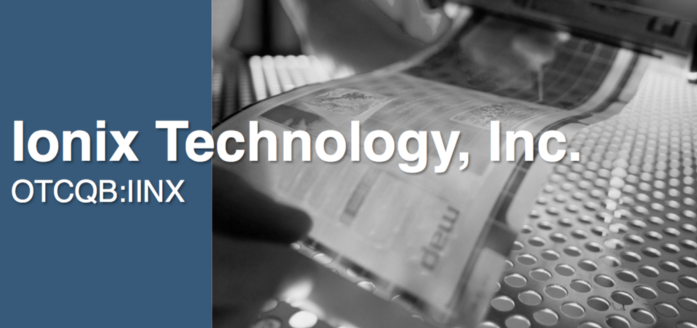 Well-Established High-Tech Manufacturing Facilities at Multiple Locations.

Serving Customers in a Wide Range of Electronic Product Fields.

OLED Global Market Projected to Exceed $48 Billion by 2022.

Efforts Underway for Up-Listing to a National Exchange.

Strong 2nd Quarter Financial Results Released in February.
Ionix Technology, Inc. (OTCQB: IINX) is a holding company based in China that is engaged in the photoelectric display and smart energy industries. IINX functions as a business aggregator in these high value market sectors and is currently undergoing corporate development and revenue growth with the objective of significantly enhancing shareholder value.
IINX is well positioned in the photoelectric display field as the global demand for LCD panels is constantly increasing. The demand for twisted nematic (TN) and super twisted nematic (STN) liquid crystal materials remains generally stable. There is strong demand for Thin Film Transistor (TFT) liquid crystal materials and great potential in the global organic light-emitting diode (OLED) market. Drivers in the OLED lighting market include energy efficiency, highly desirable color quality, flexible, transparent and other advanced designs and low cost. Research projections place the OLED global market reaching over $48 billion in 2022.
Currently, IINX has embarked on the layout of industrialization and marketization of front end materials and back end modules of liquid crystal displays and applications of flexible folding display technology by taking Fangguan Electronics as production bases, to seize the market share of OLED high technology.
In the smart energy field, IINX is favored by increasing applications in the automotive sector, growing demand for smartphones, tablets and related devices, stringent government regulations aimed at reducing pollution levels and the enhanced efficiency of modern lithium-ion batteries.
IINX Has Five Operating Subsidiaries
Changchun Fangguan Electronics Technology Co., Ltd. focuses on R&D, manufacturing and marketing LCM and LCD products. Total area of 25,000 square meters including a production purification workshop. The components produced here are widely used in display fields of many high-tech products.
Changchun Fangguan Photoelectric Display Technology Co., Ltd. specializes in developing, designing, and selling TN and STN LCD, STN, CSTN, and TFT LCD modules as well as other related products.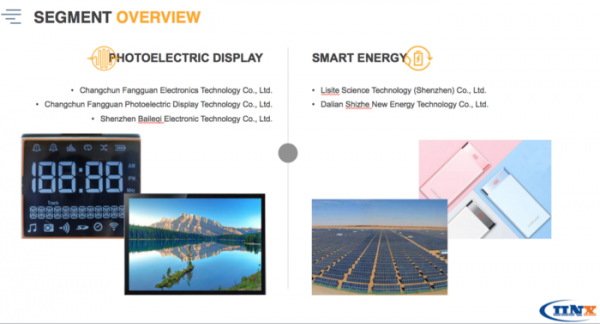 Shenzhen Baileqi Electronic Technology Co., Ltd specializes in LCD slicing, filling, researching and designing, and selling of LCD Modules (LCM) and PCBs. Complete LCM production flow to meet the needs of all kinds of LCD module products. Baileqi's products are widely used in equipment that requires display terminals such as industrial control systems, rail traffic systems, smart city systems, HD projection, medical instruments smart home system, electronic automation and communications.
Lisite Science Technology (Shenzhen) Co., Ltd. is involved in the marketing and selling of intelligent electronic devices. After 7 years of operating history, Lisite's clients include XiaoMi, WD and Pinex. With its manufacturing center focusing on assembly and production, Lisite has implemented a unified procurement system and independent operations with an innovative management model. Lisite also has strategic cooperation relationship with TMalll and JD.com.
Dalian Shizhe New Energy Technology Co., Ltd. is engaged in the new energy support service, and operating the photovoltaic power generation, electric vehicles and charging piles with corresponding operation and maintenance and three-dimensional parking. Shizhe has led and contributed to the completion of major regional projects such as the Hangzhou Xiaoshan International Airport and other projects of very high importance in China.
IINX Engages Maxim Group to Assist with Growth Strategy and Up-list to a National Exchange
On January 24th IINX announced that it has engaged Maxim Group LLC as its financial advisor to assist in articulating growth strategy to the investment community and up-list IINX securities to a National Securities Exchange. This up-listing will allow IINX a bid to capitalize on its growth through the broad and developed investor base of the National Exchange. IINX management believes listing to a National Exchange will enhance company visibility in the marketplace, increase the liquidity of its stock, and build long-term shareholder value.
Strong Second Quarter 2020 Financial Results
On February 14th IINX announced very positive financial results for the three months ended December 31, 2019.
Second Quarter 2020 Financial Highlights:
The total revenues increased by $4,955,221 or 208% from the three months ended December 31, 2018 to the three months ended December 31, 2019.

Gross profit increased by 242% from the three months ended December 31, 2018 to the three months ended December 31, 2019.

During the three months ended December 31, 2019 and 2018, net income was $135,658 and $6,854, respectively.
For more information visit: www.theiinx.com
Media Contact
Company Name: Ionix Technology, Inc.
Contact Person: Media Relations
Email: Send Email
Phone: +86-411-88079120
Address:Rm 608, Block B, Times Square, No. 50 Pe
City: Dalian City 116001
State: Zhongshan District
Country: China
Website: www.theiinx.com