18 Year Olds ROY (Rely On Yourself) Valued at $4.5 Million By VC Group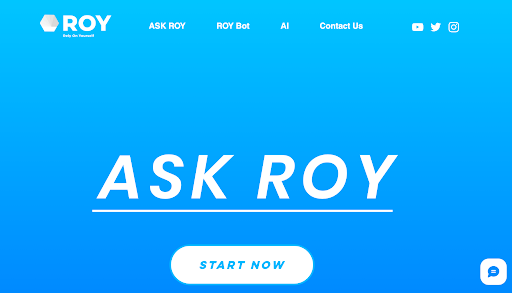 Co-Founded by Two Teenage entrepreneurs, Raza Shah and Abdulaziz Albastaki, ROY is an AI search engine revolutionising the way that students study.
Just last week, ROY pitched to over 12 venture capitalists, with one major group citing it as a business worth a mere $4.5 Million. ROY won a place to pitch to Venture Capitalists after a series of shortlists and eliminations done by executives at some of the world's most innovative and technology driven VC Groups. The VC groups involved are to be kept anonymous to the public unless a cash injection is initiated. At the VC event, ROY showcased its year long execution plan strategizing the way it will not only market and sell its product, but turn a profit as a young startup.
ROY is a search engine specifically tailored to students' respective school courses. ROY gives students immediate and detailed responses to queries, enhancing student's ability to learn independently and saving teacher's time. ROY's courses are created with exam board specifications, mark schemes, and teacher handbooks, giving students fully correct answers to their respective queries. ROY is powered by AI, making it a reliable tutor that is open 24/7 for any student seeking support. The more users actively ask ROY questions, the more ROY learns. ROY grows with knowledge. Just like students.
Raza stated "If you were to search a question on Google you'd get a lot of varied answers that won't help you get marks in your exams. ROY is specifically designed to help you get the marks in exams. ROY is able to do this through thousands of data entries that are specific to individual courses. ROY was inputted with the minimum amount of data that it needs, but as people search and as people use it, it gets better over time."
ROY was tested at multiple schools around the world, from Dubai to Singapore, with an in-depth trial at a top private school in Dubai, UAE. The team at ROY believes their product can change the world simply through leveraging technology that already exists. ROY is currently free for GCSE courses in Economics, Biology, and Chemistry with additional courses coming in future months. Omar Hamed, Chief Strategy Officer who designed ROY's branding believes it will be the driving force to attract students to use the system.
Raza and Aziz, aren't just focussed on building a tech empire. Raza achieved 8 A*'s in his GCSE exams hoping to follow in the footsteps of many giants of industry into a top American Business School – in the likes of Stanford and Wharton – not a long shot given that some of the VC Partners involved in the convention are among the most notable alumni. Aziz, who achieved 2 A*s and 5 A's plans on studying Computer Science at a top CS university such as Carnegie Mellon or UC San Diego to be able to develop ROY to its full potential.
The next step is to secure funding. After the event, the duo mentioned that they are engaging with multiple Venture Capitalist and Private Equity funds in the UAE and abroad to take ROY officially to market through a cash investment hopefully before the new year. Raza urged that this valuation is a great starting point for individuals and firms to determine what they are truly willing to invest.
ROY can be found at www.relyonroy.com
Media Contact
Company Name: Rely On Yourself
Contact Person: Raza Shah
Email: Send Email
Country: United Arab Emirates
Website: http://www.relyonroy.com