AI-Based Facial Recognition Temperature Measurement Access Solution Effectively Controls Infectious Diseases
October 15, 2021 – Nine Technology Korea Co., Ltd, a technology company in Korea, is pleased to announce that its Facial Recognition Body Temperature Measurement PDA solution is now available on the market.
In the year 2020, the global outbreak of the COVID-19 pandemic took the world by surprise. The whole world was battling a strange disease. Governments across the world took tough but important decisions to protect their citizens, and businesses were forced to shut down.
Since the advent of the COVID-19 pandemic, people around the world are now more aware of disease prevention, public health, and pandemic control. These have become a normal part of daily life.
Testing people's temperature is regarded as an effective measure to monitor potential cases, and this must be done accurately and efficiently. Therefore, this has become a top priority for smart buildings and many organizations as they strive to protect public health while abating disruptions to their businesses and to maintain a smooth customer and visitor experience.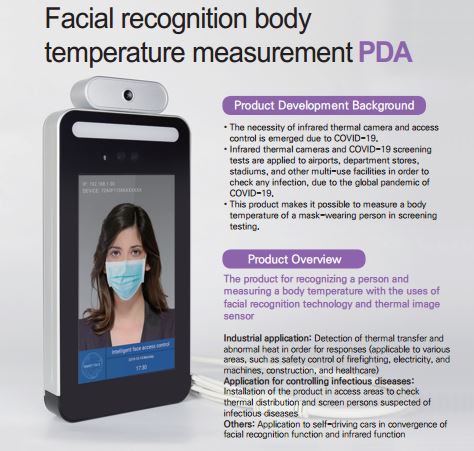 Therefore, the solution combining contactless temperature measurement and facial recognition is increasingly being adopted in smart buildings and many businesses. That is where Nine Technology Korea Co., Ltd Facial Recognition Body Temperature Measurement PDA solution comes in. The device can effectively detect forehead temperature and accurately match data to individuals identified through facial recognition technology.
The device is effective in controlling infectious diseases. Installation of this device in access areas to check thermal distribution and screen persons suspected of infectious diseases can help reduce the spread of infectious diseases, such as COVID-19.
A few things that set this device apart from other similar products on the market include but are not limited to the following:
Extension TF card support
Diverse authentication methods: Card + Facial Recognition, ID + Facial Recognition, Facial Recognition, Operation Method
Wi-Fi communication support
Blacklist remote download, blacklist check, blacklist event notification, and monitor display
Face image upload; face image and check record download
ID reader connection support through USB or RS232 communication
ID blacklist and face image blacklist remote distribution support
Face image whitelist remote distribution support
HDMI monitor connection support (optional)
Voice function support
Notice message announcement support; remote announcement of text messages or images in monitor
Face image distribution and PAD face image remote-collection at control center
Cloud storage connection support
This device can be installed at passages and entrances of buildings that experience a high influx of people to ensure free access and is suitable for cases where high-severity identification is required.
For more information about the Facial Recognition and Body Temperature Measurement PDA device from Nine Technology Korea Co., Ltd, visit https://9ntk.com/.
Media Contact
Company Name: Nine Technology Korea Co., Ltd
Contact Person: Andy Hong
Email: Send Email
Phone: 02-581-8880
Country: South Korea
Website: www.9ntk.com/