Deborah Kuster, shares a beautiful story of self-discovery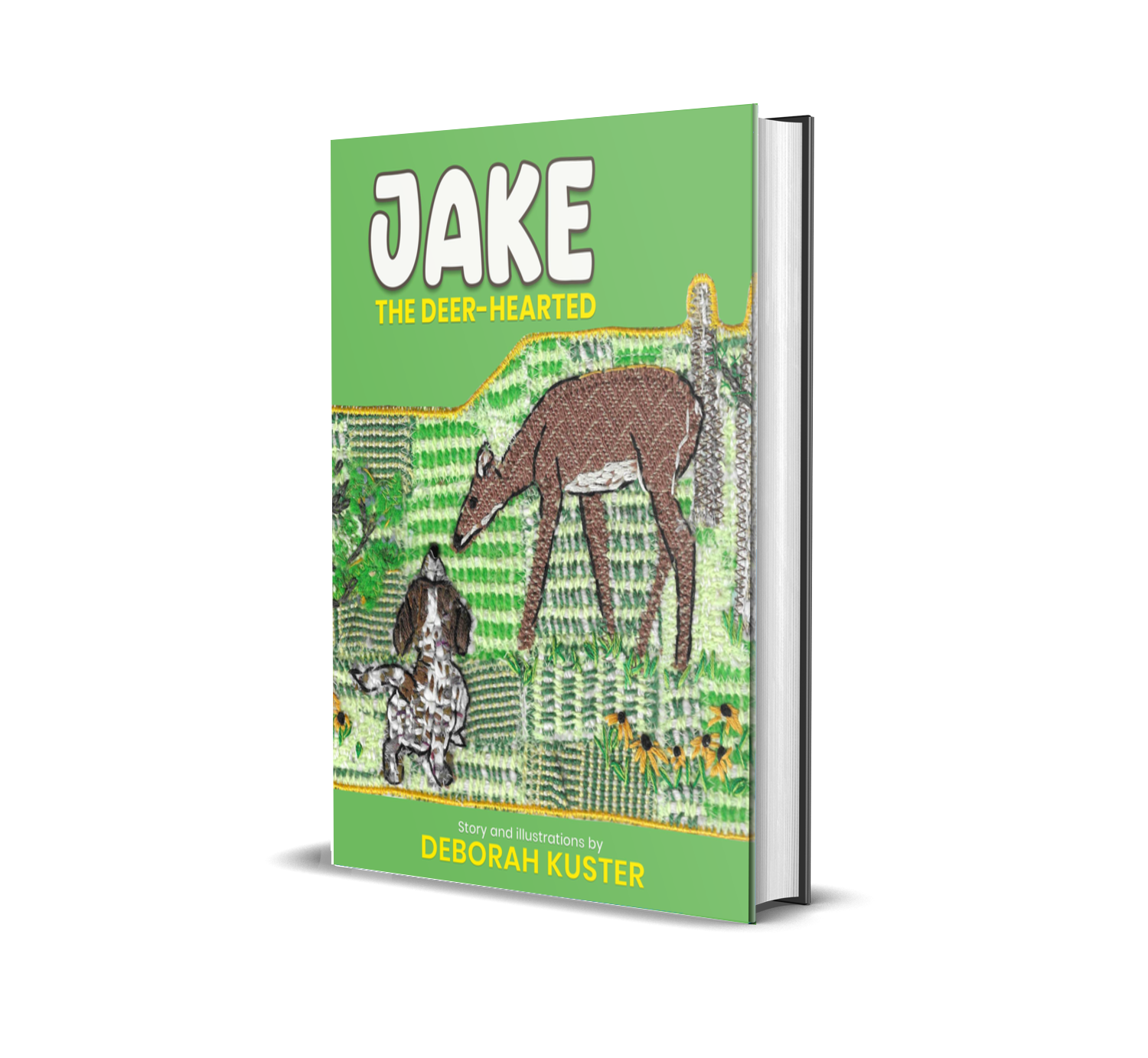 CHICAGO, Ill. – Kharis Publishing today announces the release of "Jake the Deer-Hearted" (ISBN: 978-1637461686) by Deborah Kuster, just searching for a place to feel loved and accepted in this big world.
Jake the Deer-Hearted is a hopeful story about a curious, ill-proportioned dog who wanders away from his dog family. The lost puppy is befriended by a small herd of deer in the Piney Woods of East Texas. Jake is the unexpected hero who overcomes hardships, learns about values and companionship, and realizes his dreams of becoming deer-like and finding his human family.
Young readers will:
Empathize with Jake's journey of having big dreams and finding happiness in receiving care and love
Enjoy the cozy, colorful textile illustrations
Benefit from the repeating and rhyming words.
The setting of the story offers opportunities to investigate:
Facts about Texas
Seasons
Wildlife
Caring for Animals
The processes and history of weaving and quilting.
Video Link: https://www.youtube.com/embed/DasMUwmO31E
According to Kathleen Atkins, Associate Professor, Early Childhood and Special Education, "The author, Deb Kuster, shares a beautiful story of self-discovery. Jake's journey explains to children that emotions such as loneliness, insecurity, and fear can lead to unexpected blessings in life. The patchwork illustrations in the book reinforce the story's message that being different is what makes us our "unique" and "worthy" selves. A beautiful book in every way!"
"Jake the Deer-Hearted" is published by Kharis Publishing and is now available wherever books are sold, including Amazon: https://www.amazon.com/dp/1637461682/ Retailers and other agencies may order copies from Ingram Content Group or through the publisher (ISBN: 978-1637461686): https://kharispublishing.com/kp/product/jake-the-deer-hearted/
Deborah Kuster (Ph.D.) has been involved in the field of art education for all ages for her entire career. She creates artworks from her hand-woven textiles. Deborah is Professor Emeritus of Art at the University of Central Arkansas, and her artworks have been exhibited and published nationally and internationally. Deborah and her husband call Texas and Arkansas their home. Their daughter, son-in-law, and three grandchildren live in Texas.
About Kharis Publishing:
Kharis Publishing, an imprint of Kharis Media LLC, is a leading Christian and inspirational book publisher based in Aurora, Chicago metropolitan area, Illinois. Our mission is two-fold: 1. Provide an innovative publishing platform for professionals, Christians, pastors, workplace leaders to tell their story and share in a book form what God has put in their hearts, with a focus on under-represented writers (including women and first-time authors); 2. Equip orphans in developing countries with literacy tools. That is why, for each book sold, the publisher channels some of the proceeds into providing books and computers to orphanages in developing countries so that these kids may learn to read, dream, and grow. For a limited time, Kharis Publishing is accepting unsolicited queries for nonfiction (Christian, self-help, memoirs, business, health and wellness) from qualified leaders, professionals, pastors, and ministers.
Learn more at: https://kharispublishing.com/
Media Contact
Company Name: Kharis Media LLC
Contact Person: Rufus Philip
Email: Send Email
Phone: (630) 423-6309
City: Aurora, Chicago
State: IL
Country: United States
Website: https://kharispublishing.com/kp/product/jake-the-deer-hearted/