TREAT YOUR CLIENTS LIKE ROYALTY By Gregor Hocevar
Find out how to build a successful business by treating clients like royalty with this new book.
Every business leader knows that satisfied clients and customers are the very heart and lifeblood of the company. After all, no business can survive without the sale of goods or services, and that means building up a great reputation for brilliant customer service. That's the reason this new book 'Treat your Clients like Royalty' from Gregor Hočevar is such an essential reference for business owners and individuals working within customer-facing roles.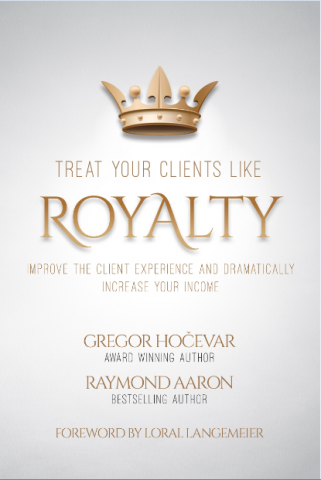 Gregor Hočevar is a business owner, entrepreneur, and author, living in Slovenia with his wife and two daughters. As a keen sportsman, Gregor understands that trust is one of the biggest values in all areas of life, and this is his number one focus in business dealings with clients and suppliers.
After completing his studies in Ljubljana in 2005, Gregor joined the family business and now owns two companies, while also lecturing and speaking on the right ways to treat business customers. He constantly strives to be the best in business, and treat his own business customers like royalty, saying: "I treat my customers like kings because I know this philosophy works and is the principal reason for my continued business growth and increased profitability."
'Treat Your Clients Like Royalty: Improve the Client Experience and Dramatically Increase Your Income' is an essential read for professionals wanting to offer the best customer service. Excellent communication skills, positive and ethical corporate business behaviour, and superb customer service are all tackled in Gregor's guidebook in a way that is easy to understand and replicate. Gregor comments: "It's easy to treat your customer like royalty when you appreciate all the nuances of the client experience. This helps you create rapport with customers and build the ongoing trust and levels of confidence that lead to return purchases."
This guide is an essential handbook for business, offering an analysis of communication skills, such as good listening, and illustrating how easy it can be to create a win-win experience between customers and businesses, even in situations where the business cannot exactly meet client specifications. No matter whether businesses are purely online-focused or situated within the hurly-burly of the contemporary high street or city centre, this useful guidebook provides the knowledge required to give customers the "Wow" experience of any business and customer-facing operation.
Gregor is also available for personal coaching, mentoring, and public speaking engagements where he shares his story and how he developed his business philosophy that impacts all aspects of his business.
Please buy his book on Amazon at www.amazon.com/Treat-Your-Clients-Like-Royalty/dp/1080975330 or contact with Gregor at his website www.RoyaltyClients.com
Media Contact
Contact Person: Gregor
Email: Send Email
Country: Slovenia
Website: www.RoyaltyClients.com