"I Love My Kids But I Don't Always Like Them": Expert Advice for Parents of Challenging Kids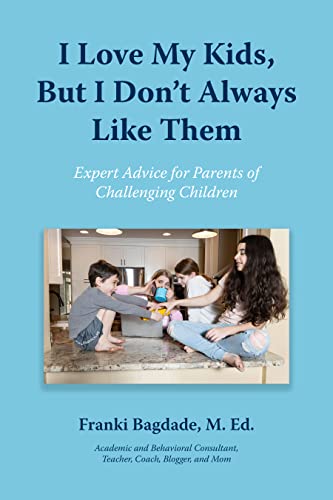 a life-changing approach to supporting and enjoying special children
My inclination to help other parents came from being a child growing up with ADHD and anxiety; my training as an educator and then a special education teacher and consultant; my experience in the classroom with children who have special needs; my consulting work supporting frustrated teachers, and then moving into the world of summer camps, when the behavior was all about social skills and independence.
Taken all together, along with my own recent parenting challenges, I knew I was on the right track and that I wanted to help other families feel less helpless. I wanted all moms and dads out there to know that you can love your child fiercely and not like them so much all the time. Don't worry, I never play favorites among my own children (or yours), and I feel this way from time to time about all three of mine!
– Excerpt from I Love My Kids, But I Don't Always Like Them
Does your child struggle with age-expected tasks and have difficulty socially, trouble focusing, managing school, or with sibling relations? Is your family struggling because one of your children seems to consume all of your parental energy? Then this book is the book for you!
Written by an expert with 20 years of experience in observation and study in the classroom and recreational programs, this book focuses on behavioral challenges in children and serves as a guide for parents on how to improve their child's behavior.
Let a dynamic and creative consultant skilled in problem-solving and out-of-the-box solutions provide a new approach with simple steps that
establish new structures, systems, and strategies in and out of the home;
empower your child to take responsibility for his or her own behavior; and
allow you to once again enjoy your child.
Chapters include expectations, tantrums, sensory sensitivities, a range of extra needs (ADHD, anxiety, and more), individual differences, choice of consequences, communication, parent-child interactions, parent-teacher interactions, self-care, and letting go.
The appendix provides a list of rich resources for parents.
5 Stars from Readers "easy to digest" "down to earth" "real advice that works" "CHANGED MY LIFE"
Franki Bagdade (M. Ed.) Franki Bagdade (B.A. Elementary Education, Michigan State University; M. Ed. Special Education, Wayne State University) is currently completing an MSW in Clinical Social Work at the University of Kentucky. For more than 20 years, she has specialized in children with extra needs, including non-traditional learning environments, camp settings, and everything in between.
Nonfiction Parenting
$14.95
On sale at Amazon, Barnes & Noble, other online stores, and select retailers
Released September 25, 2021
Order direct from MSI Press: msipress.com/shop
Media Contact
Company Name: MSI Press
Contact Person: Betty Lou Leaver, Managing Editor
Email: Send Email
Phone: 831-578-0290 (phone), 831-886-2486 (fax)
Address:1760-F Airline Hwy
City: Hollister
State: CA 95023
Country: United States
Website: msipress.com/shop