New book "Pasquale: Tales of a Brooklyn Grocer's Son" by Peter M. Franzese is released, a vivid memoir and family biography that explores legacy, love, and the power of storytelling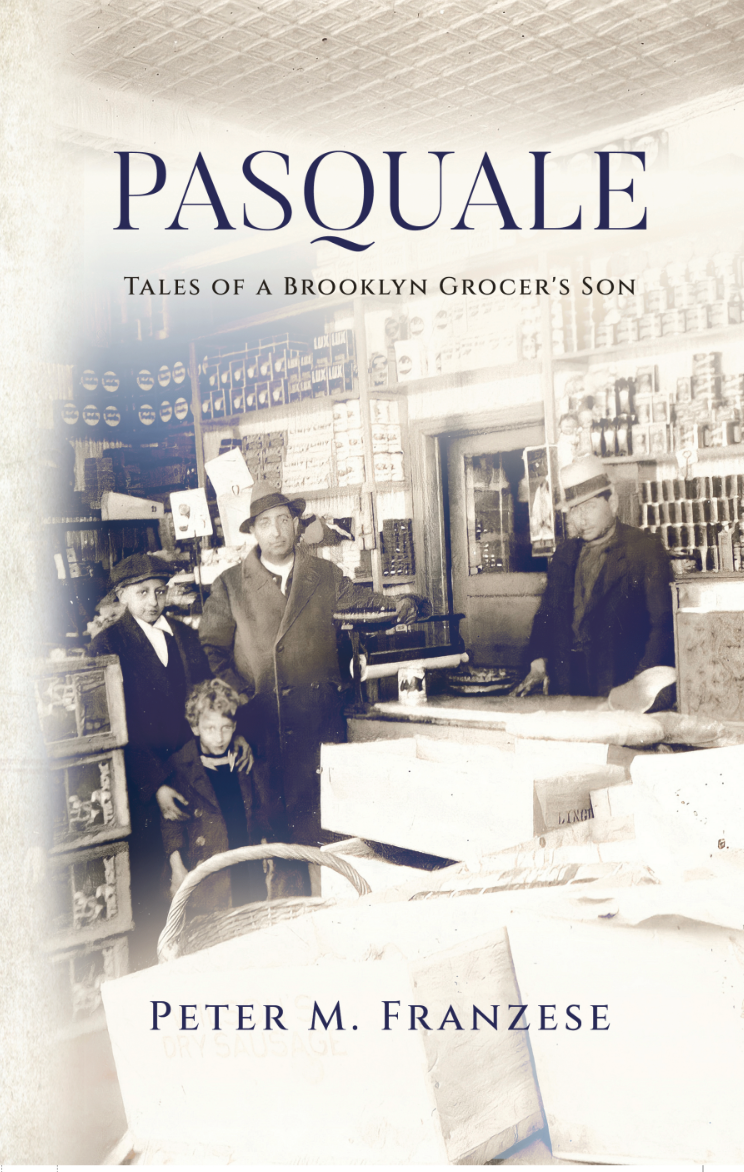 "Pasquale: Tales of a Brooklyn Grocer's Son" by Peter M. Franzese has been released worldwide. This detailed, 414-page memoir tells the life story of Pasquale "Pat" Franzese, the author's grandfather, through the memories he shared and wisdom he gained over ninety-two years of life. An exploration of family history, Italian-American culture, and how the experiences of the elderly can shape the way we see the present, Franzese's work covers a broad range of topics drawn from Pat's imaginative, passionate storytelling.
From long-hidden truths about Pat's first marriage to insightful anecdotes about growing up in 1930s Brooklyn, on through the Franzese clan's time during World War II, raising children, and the remarkable breadth of experience Pat gained over a long and family-focused life, the book is a complete history of not only Pat's life (and the surrounding cultural milestones), but also the lineage that led to his worldview and the legacy of tenacity he left behind.
Complete with names, dates, family photos, and beyond, Peter Franzese's biography of his grandfather is meticulously researched, and serves as both an inspiring true story and a heartwarming guide for a life well-lived.
Pasquale: Tales of a Brooklyn Grocer's Son (ISBN: 9781958729564 / 9798986320137) can be purchased through retailers worldwide, including Barnes and Noble and Amazon. The paperback retails for $19.99, the hardcover retails for $24.99, and the ebook retails for $2.99. Wholesale orders are available through Ingram. Review copies and interviews are available upon request.
From the back cover:
"Get ready for a Brooklyn family story as satisfying as Sunday Dinner and as glorious as a Venetian Table at your favorite cousin's wedding. Peter Michael Franzese has written his family story with an open heart and a sure hand. You will fall in love with Pasquale 'Pat' Franzese, the patriarch of the clan, who was not only beloved, but revered."- Adriana Trigiani, author of The Good Left Undone
"What a tribute to a great man and his wonderful family! This book really means a lot to me as I'm sure it will to anyone who wonders about his life and the many magical ways the past informs the present. Peter is a very good writer. Read his book today. You'll be glad you did."- J. Randy Taraborrelli, New York Times bestselling author
It is Christmastime 2016 and I am driving my eighty-nine year old grandfather over the Kosciusko Bridge into Greenpoint, Brooklyn. As I look over at him peering out of the windshield, I can see two spools of film playing in his head. One in vibrant color in which he could give perfect recall of all the events that had happened in his every-day life… and another… one in sepia tone, of him in pinstriped suits and fedoras, and driving his green 1946 Hudson around Greenpoint and Coney Island and Bear Mountain Park. He was always living in the present, but had the gift for total recall of the past to take you on that ride with him in old fashioned cars back into more idealistic times. As he stood in disbelief of all the buildings torn down in his old neighborhood from his youth, here he stood, still vibrant, as a living testament to the real journey and the real struggle. There, standing by the Johnny pump where he played stickball as a youth in the 1930s with his neighborhood friends now all dead, he was a living time machine about to take you back to the days of trolley cars and vegetables sold from pushcarts in the street… when Graham Avenue was the epicenter of life and Saint Francis de Paola was the soul… and the gong from Satin Cecilia's bell tower was your clock. It was the story of the coming of age of the Brooklyn Grocer's Son and how on that one fateful night standing in Richardson Street, the click-clack of high heels striking the sidewalk turning the corner from Graham Avenue changed his life forever.
About the author:
Born in Flushing, New York and raised in Richmond Hill and Deer Park, Peter M. Franzese is a fourth generation Italian-American. He holds a B.A. in Broadcast Journalism and M.S. in Secondary Education English from Hoftsra University, as well as a degree in Mortuary Science from American Academy McAllister Institute. A former television news writer and educator, Peter is a funeral director in Long Island, New York, where he lives with his wife and daughter. His first book, Nettie: Tales of a Brooklyn Nana was released in 2004.
About MindStir Media:
MindStir Media LLC is an award-winning book publisher. To learn more about publishing a book with MindStir Media, visit http://mindstirmedia.com or call 800-767-0531.
Media Contact
Company Name: MindStir Media LLC
Contact Person: Jen McNabney
Email: Send Email
Phone: 800-767-0531
Address:1 New Hampshire Ave Suite 125
City: Portsmouth
State: NH
Country: United States
Website: https://mindstirmedia.com/