Flora Sofia: Meet A Beautiful & Powerful Actress, Model And Empowerment Role Model Who Is Hosting Film Week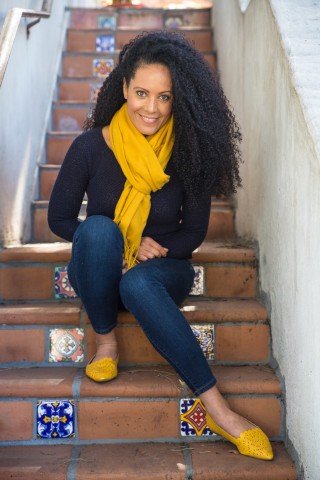 Every year crowds flock to San Diego to take part in a week of film related festivities. It's a wonderous event where you go to see and be seen. It is a week of creativity where filmmakers, actors, production companies and creatives of all walks come together to celebrate filmmaking. Young up and coming filmmakers utilize this week to showcase their latest work and garner some much needed exposure. One such individual who is garnering much attention and gaining well deserved exposure to what she brings to the table is Flora Sofia. She has been tapped to Host the upcoming Film Week's festivities and with good reason given the experience she brings with her.
Ms. Sofia is a multi-talented lady who is doing remarkable things through her business ventures to revolutionize the industry. Ms. Sofia has transferred the recognition she's gained through her national exposure in campaigns for UPS, Ford, and Jergens (who has just released their new product line, Melanin Glow) and parlayed it into starting up her own business. A business that highlights a community that has not had the spotlight pointed in their direction as much as they should. She makes sure that the industry takes notice of women of color as it's long overdue. Black and Latin women should be given the same opportunities and offered the same roles as anybody else. Flora Sofia is an Advocate for such positive change.
Flora Sofia is talented in so many ways that it would take a Herculean effort so narrow down what she does. She is a woman that is deeply layered with a great many talents in her arsenal. Looking past the acting and the modeling, Ms. Sofia is an entrepreneur who has made it her mission to not only find success, but to aid helping others find success as well. She has planted seeds that she has cultivated into multiple business ventures. One does not plant a single seed if one wants to grow an entire forest. Among her many endeavors:
She started her personal website to give more insight into her background, her Blog, and her Reel
A website she created to Facilitate Women's Self-Empowerment
She hosts a Podcast where her goal is to empower woman globally and help them find their inner strength
With Ms. Sofia's advocacy, she has worked hard to not only prop up women of color, but women in general as she views them as being horribly underutilized and has made it her mission to change the way they are perceived in the entertainment industry. She is working diligently to see that women of color are treated with the respect they so rightly deserve.
Ms. Sofia works so diligently to change the industry's perception of women of color partly due to her upbringing, which was anything but pleasant. Being raised in Brazil she grew up amidst a very racist and classist society. One where she was forced to believe she was ugly due to her complexion. That is a horrible thing to have to endure, especially when you are a child. However, it was those horrendous circumstances in her formative years that fueled the fire within her to enact real change. That is what makes this woman so remarkable as she fights to revolutionize the film industry today. So, while you are enjoying the festivities of Film Week, be sure to tip your hat and give flowers to this amazing woman who will be hosting.
Flora Sofia Live On Stage:
Date: November 20th
Time: 4:10 P.M.
Movie: 5 South
https://sdfilmweek.com/2020/movies/5-south/
San Diego Film Week:
November 17-20th
Contact:
Phone: (619)512-2403
Email: www.filmconsd@gmail
Media Contact
Company Name: Flora Sofia Model and Actor
Contact Person: Flora
Email: Send Email
Country: United States
Website: www.florasofia.com